Kapco Global Receives Commendation from FranklinCovey® for Global Implementation of The 7 Habits® of Customer Service
In the fast-paced, high-tech world of global e-commerce, it can be easy to overlook the power of person-to-person interaction. Companies can spend so much time, effort and energy on having the latest technology, they can neglect one of the most important elements of their business—the human element. At Kapco Global, we know how important customer service is—that's why we work hard to make sure our service representatives are well-informed and armed with the power to resolve most issues that may arise. But customer service isn't simply a matter of employee training—it is also a matter of employee engagement and company loyalty. Happy, enthusiastic team members who are invested in their work perform better and deliver better service to their customers.
That's why, over the past year, we sought out the expertise of performance improvement firm FranklinCovey®, and we are proud to announce their commendation of our company for The 7 Habits® of Customer Service. This program has helped Kapco Global team members further develop their customer relationship skills and has resulted in company-wide improvements in communication, individual empowerment, loyalty and employee engagement.
Improved Communication = Improved Employee Engagement, Loyalty
As a company always looking to improve our processes—both internal and customer-facing—our work with FranklinCovey® helped us identify places in our culture that needed improvement. One of these places was in communication. We are pleased to report that after a year of diligent work on this front, 71 percent of our employees report better communication. This improvement has led to higher levels of employee engagement and loyalty as outlined in the chart below: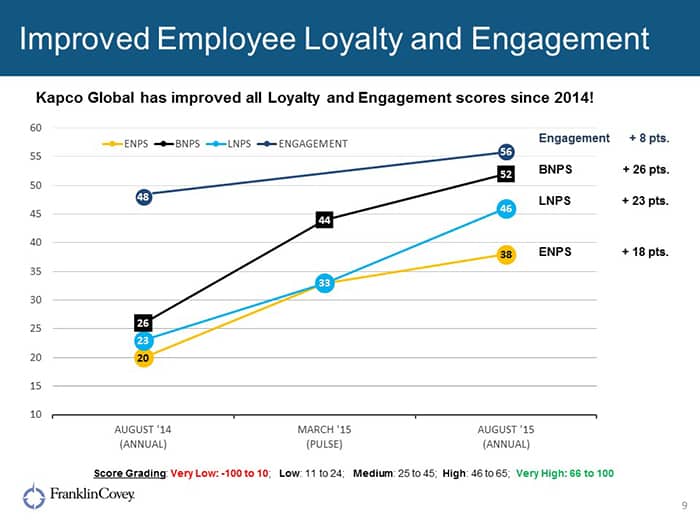 FranklinCovey® Congratulates Kapco Global
Our teambuilding, employee engagement and communication efforts resulted in such dramatic improvement that FranklinCovey® is planning a case study around our success.
"FranklinCovey would like to congratulate Kapco Global on its remarkable success this past year learning and living The 7 Habits® of Outstanding Customer Service. As a result all scores from its Employee Loyalty and Engagement (ELE) survey have improved… Keep up the great work! 'The only way to earn customer loyalty is when your employees are inspired to make your customers happy. Only through an engaged and caring staff can you hope to turn customers into Promoters.'"

–Richard Vernon, FranklinCovey® Director of Business Development, Customer Loyalty Practice
Staying in Communication Is Good for Us and Good for Our Customers
A few weeks ago, Kapco Global launched Kapco kart, our new and improved e-commerce site. Since the big reveal, we've been busy signing up new customers and fulfilling more orders than ever before. We attribute much of the success of this platform to its detailed product and ordering information, which helps our customers plan and manage their inventories, and to the ease of navigability, which makes the transaction process quick and hassle-free.
As a marketing asset for the kart's launch, we created an infographic providing statistical insights into the global e-commerce industry. The numbers indicate that businesses are increasingly using online commerce platforms to research and purchase what they need.
But the numbers also reveal that, despite this move, and the plethora of information at consumers' fingertips, there is still—and likely always will be—the desire for communication and support throughout the purchase process.
Simply put, individuals engaging in online business commerce want the option to call or email a customer service agent, ask questions and get a timely, friendly response. They want to be able to talk to an expert, get advice on how to best manage their e-commerce orders, and have a real live person help them if a problem arises.
In short, they want open, clear lines of communications. That's why, when designing kart, we made sure the live chat window is easily accessible and open 24 hours a day, 7 day a week. Plus, the contact information for your dedicated sales representative is featured on the header of every page.
Thank You, FranklinCovey®!
We'd like to thank FranklinCovey® for their guidance and insight as we worked together over the past year to improve our employee engagement and, ultimately, our entire business.
As a company, we are always growing, changing and adapting to new paradigms as global business evolves. As we continue to expand our reach to better serve our customers, we commit to continually looking inward, and listening to our team members—because we know they are our greatest asset and ultimately the reason for our success.
Read more from the Kapco Global Blog: