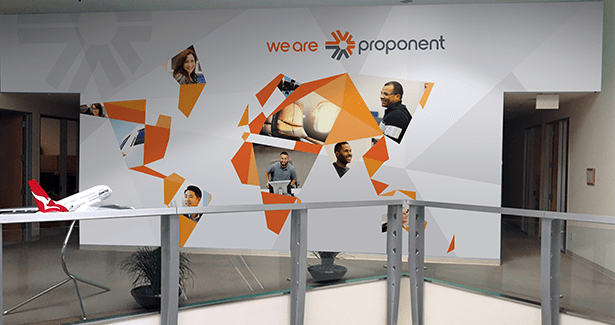 It's Official: Kapco Global is Now Proponent
On February 19, 2018, we announced that Proponent would be the new trade name for Kirkhill Aircraft Parts Co., replacing the Kapco Global moniker. This is an incredibly exciting time for Proponent, capping off nearly a year of feverish work.
For those of us who have been working behind the scenes to bring the Proponent identity to life – determining the name, choosing the logo, developing the brand voice and look, not to mention ensuring a seamless transition for all of our customers and supplier partners – it feels like this announcement has been a long time coming. However, we can understand how it might seem sudden and confusing to some, after decades of doing business with Kapco. In this post, we discuss why we made the change and what definitely won't change.
Our New Name
The Proponent name was chosen to emphasize our deepened focus on customer and supplier relationships. These relationships have always been important to us, but our partnership with Avio-Diepen helped us to increase our supply chain offerings and to greatly expand our portfolio of aircraft parts – all in service to our customers and suppliers.
Our President and CEO put it best: "The name 'Proponent' is a one-word mission statement. It means 'advocate, champion, supporter.' We have always placed a high priority on our relationships, but this name change is a recommitment to doing whatever we can to be a champion for our suppliers and customers."
The Proponent identity launched in October 2017 as the parent company of Kapco Global and Avio-Diepen. With our focus shifting more and more toward being a "champion" for our clients, it only made sense to change our name completely. As Proponent and Avio-Diepen continue on the path toward full integration, Avio-Diepen is expected to complete its integration into the Proponent name by early 2019. Together, we are the world's largest independent aerospace distributor, but our focus remains on individual relationships and doing everything in our power to provide customized solutions that address our customers' objectives and maximize their opportunities.
The New Basics
Even if you are a long-time customer or supplier partner, we invite you to read the following refresher on Proponent:
Proponent supports over 380,000 aircraft parts and components, serving the global MRO, OEM and airline markets. Our newly revamped ProCart e-commerce marketplace features real-time inventory information, advanced shipment tracking, access to traceability certifications and expedited AOG support. Proponent also provides unique inventory and supply chain solutions for OEM and aftermarket customers, custom-tailored for each client. In the past, these solutions have included value-added distribution, custom parts kitting, vendor consolidation, manufacturing services, custom storefronts and more.
What Stays the Same
Your E-Commerce Account Information
Kapco kart is now ProCart – but your login information stays the same. Click here to experience 24/7 access to the industry's most accurate inventory information.
Cage Codes
Our cage codes and various tax registration numbers remain unchanged.
Placing Orders
Your contact person within our organization is unchanged, so please continue to place orders as you have been doing. We simply ask that you update your purchase orders to reflect the new Proponent name.
Remittances
Our remittance addresses and banking information remain the same. Once again, we simply ask that you update the payee on your remittances to reflect the new Proponent name.
Legal Entity
While we are now doing business as Proponent, the name of our legal entity is still Kirkhill Aircraft Parts Co.
Learn More
For more information, you can read the press release here, and be sure to visit the new Proponent.com if you haven't already.
Read More from Proponent
Introducing Proponent, The New Identity for Kapco Global and Avio-Diepen
Kapco Global Joins Forces with Netherlands-Based Avio-Diepen
The Importance of Cultivating Customer Loyalty